A spotlight on
Racial Equity Transformation at Wieden + Kennedy
What happens when you stir the racial consciousness of one of the world's preeminent advertising agencies? Bolder visions. Bolder conversations. Bolder work. Bigger impact.
Portland's Wieden + Kennedy (W+K) was no stranger to captivating work. As the agency that gives several Fortune 500 companies mass appeal, they are quite versed in drawing attention. More than that, they haven't been shy about highlighting identity and multiculturalism in their work. This ad ran during a certain football championship game and raised more than a few eyebrows.
Yet in-house, a great deal about race and hiring, race and culture, race and equity went unaddressed. Their work with Pacific Educational Group began in the spring of 2015 and soon after, brought about a vital shift in practice and priorities. Following their participation in Courageous Conversation®, W+K created space for their employees to describe race and the impact of this seminar in their personal and professional lives.
W+K generated a new mode of being once racial consciousness took root in their organization, and, importantly, in its leadership. They developed "5 Asks," a equity-focused protocol suited to their corporate climate. They tailored equity practices to suit their creative world. They made it part of their general operation. They evolved who they would be to each other, and ultimately, to the world. And when a punctuated, historical moment pressed them to apply that declaration in a grand scale, a fortified courage and a deliberate commitment led them speak with intention and purpose.
Following the shooting deaths of Alton Sterling in Louisiana and Philando Castile in Minnesota in July 2016, a pall hung over the nation. Black people especially walked through a familiar, yet even more difficult practice of carrying on. To commute. To work. To co-workers. All while soured by the specter of senseless death and a world unpaused. W+K employees interrupted what had become macabre routine.
An outsider's view of what happened is here.
Internally, this is how the story is told.
Racial equity, embraced and practiced internally, now clearly appears in their creative productions and public works.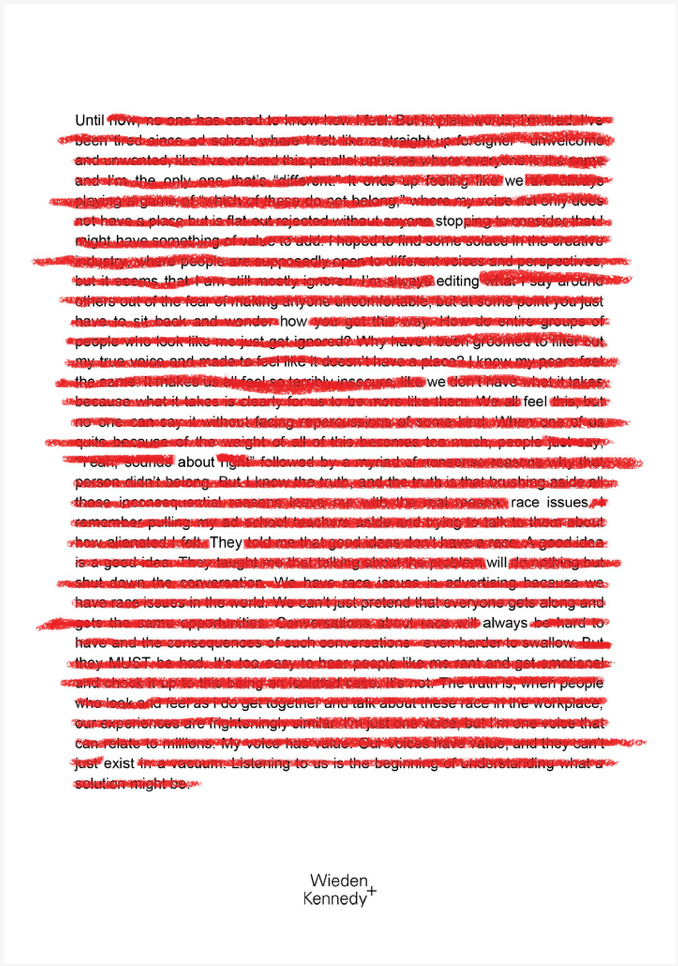 Wieden + Kennedy stands as a triumphant model of what can happen—swiftly—when racial consciousness and Courageous Conversation® spark systemic transformation.
Related Story
The Story Behind Wieden + Kennedy's #BlackLivesMatter Website Statement
As much of the United States reels from a week of violence that left two civilians and five police officers dead in Louisiana, Minnesota and Texas, Wieden + Kennedy has received attention both within and beyond the ad agency world for making its own statement on #BlackLivesMatter, the social media-driven movement that inspired protests across the country.
Related Story
The Future Isn't Waiting
The power of sports is not just on the pitch. If we all work together, the future will be more open to us. Stories based on the real-life experience of athletes. Three soccer girls overcome their daily struggles and conflicts to move their future through sports. You Can't Stop Us.